CONTRACT PRINTING UP TO 8 COLOURS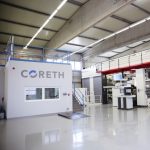 We are also happy to take on your orders in contract printing for all common plastic films and paper packaging.
Our 8-colours Novoflex CM high-performance central cylinder flexographic printing press from the German machine manufacturer Windmöller & Hölscher promises high-quality printing results. 
Printing width 1300 (!) mm
Max. Material width 1,350 mm
Our own printing hall, as well as the other production areas, complies with the EN 15593 standard, which was developed especially for manufacturers in the food sector.
This means that our products are completely safe to be used for food packaging. Strict testing procedures and an effective hygiene management system ensure high-quality products.
We will be happy to answer your questions personally!